[ad_1]

Editor's note: Digital printing of labels and packaging continues to come on strong. According to a Smithers report (issued late last year, digital's share of the printed label and packaging market will have increased from 4.4% by value in 2020 ($18.5 billion) to 7.2% ($35.9 billion) in 2026. The majority of digital output last year was in labels. But Smithers expects the fastest growth heading into 2026 to be in corrugated and folding cartons. Also showing remarkable signs of growth built on some very innovative technologies are digital finishing and direct-to-shape digital printing. This report begins with direct-to-shape printing.
---
---
"In for a penny, in for a pound"—it's an old saying being put to the test by Canadian can printer Solucan. In 2019 the firm was the first to fully capitalize on an innovative direct-to-shape Cyclone digital can printing technology from Tonejet for 12-oz aluminum cans. Just two years later, the firm ordered up a second complete can handling and printing line, but this time with a Cyclone C4+ that deploys a longer variant of Tonejet's printhead to permit the printing of 16-oz cans. The C4+ also has an upgraded user interface, simplified ink refills, and active adaptable can handling to permit rapid changeover between variations in can sizes.
---
---
Few are more surprised by the arrival of this second digital can printing system than Solucan President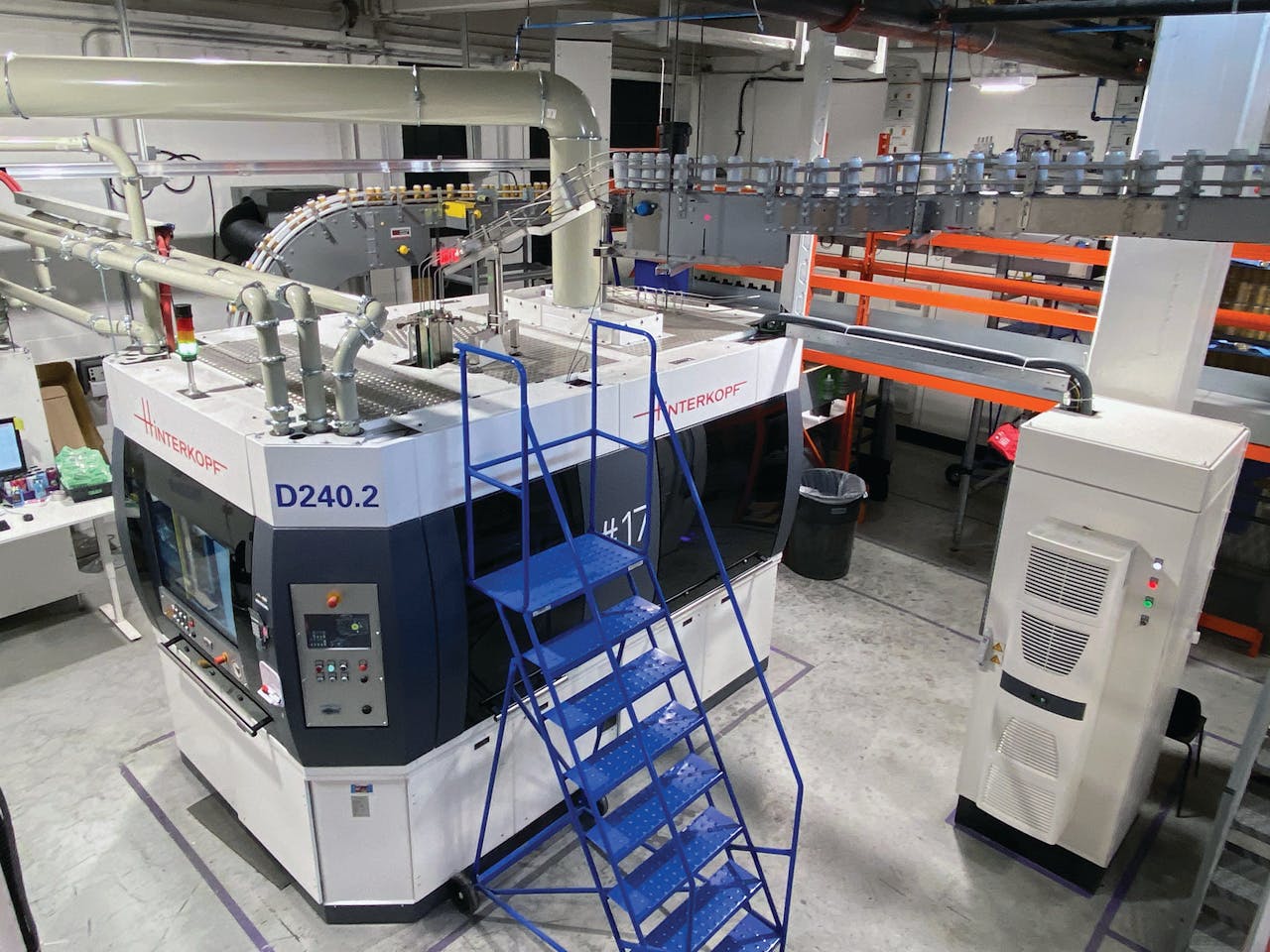 At Hart Print, cans enter the 16-station rotary printing system from above.and co-founder Sebastien Baril. "The idea was to start with a line capable of printing 12-oz cans and then replace it once Tonejet had developed a printhead capable of doing 16-oz cans," says Baril. "We figured we'd print as many as 500,000 12-oz cans while we waited for the longer printhead to be available. But demand for the 12-oz cans is so keen that we wound up printing more than six million cans with the original system. It soon became clear that we needed to add a second line rather than swapping out one printer for another."
Craft brewers, cideries, and others who have a hard time meeting the minimum-order quantities typical in the conventional can supply world have been quick to take advantage of Solucan's digital printing prowess. Like all digital printing technologies, Tonejet's digital system does away with printing plates, make-ready, ink changes, and other setup costs. Every image to be printed on a container can be different than the one before it because jobs are uploaded with the Cyclone digital job manager.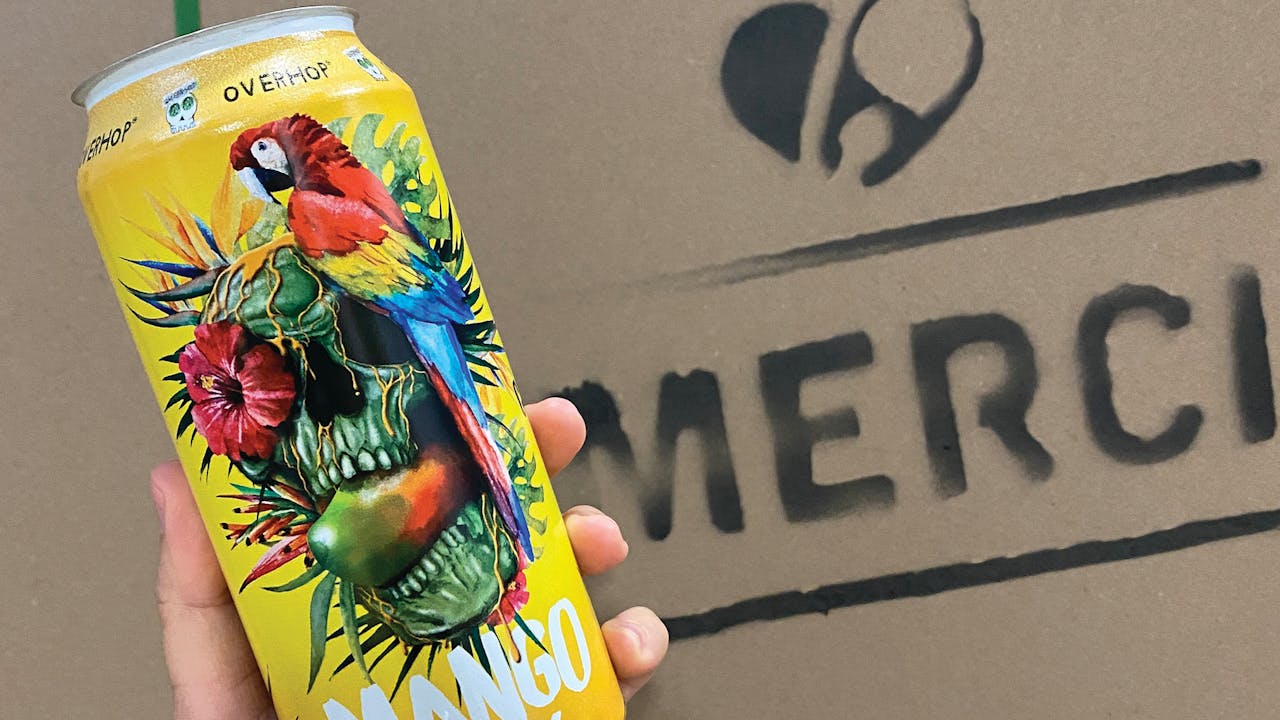 One example of the vivid printing Hart is able to produce is shown here.According to Tonejet Sales Manager Marvin Foreman, Tonejet digital printing systems deploy electrostatic drop-on-demand printing technology. "It combines a novel printhead architecture with proprietary ink formulations," says Foreman. "We've got a charged pigment particle suspended in a carrier fluid. The pigment is jetted from ejector tips and during that process the carrier fluid evaporates, so that all we're left with on the substrate is pigment. We then bind the pigment to the substrate with an overprint varnish, which is the same overprint varnish used widely in the aluminum can-making business."
This electrostatic drop-on-demand printing technology delivers a 600-dpi greyscale CMYK resolution at a speed of 60 cans/min. When asked for more detail on the ejector tips, Foreman answers this way. "It's a four-color CMYK process, so there's one print head for each color. Picture a series of hair combs mounted in a print head. The pigment is ejected from the tips of the combs' 'teeth,' which number 150 or so in each print head. We apply a pulse voltage that governs how long each ejector will fire, and that's how the pigment, suspended in its carrier fluid, is jetted onto the substrate. But the carrier fluid evaporates in fractions of a second, which is why the only thing left on the substrate is the pigment."
A good example of the 16-oz cans Solucan is printing on the new Cyclone C4+ is the Whitehead Brewing can shown on the opposite page. Though the C4+ can be used to print either 12- or 16-oz cans, Baril says it's likely that the C4+ will be dedicated to 16-oz cans because that size in Canada, at least in the beer market, is far more popular than 12-oz.
Further into this article is a discussion about a Solucan customer who is using digital can printing in a product category that isn't beer, cider, or liquid at all.
Elsewhere in Canada
While Solucan hitched its wagon to U.K. technology—Tonejet is a subsidiary of the U.K.'s TTP, which has a 30-year history of inkjet technology development for some of the world's leading OEMs—Canada's Hart Print looked to Germany and Hinterkopf for its direct-to-shape digital printers.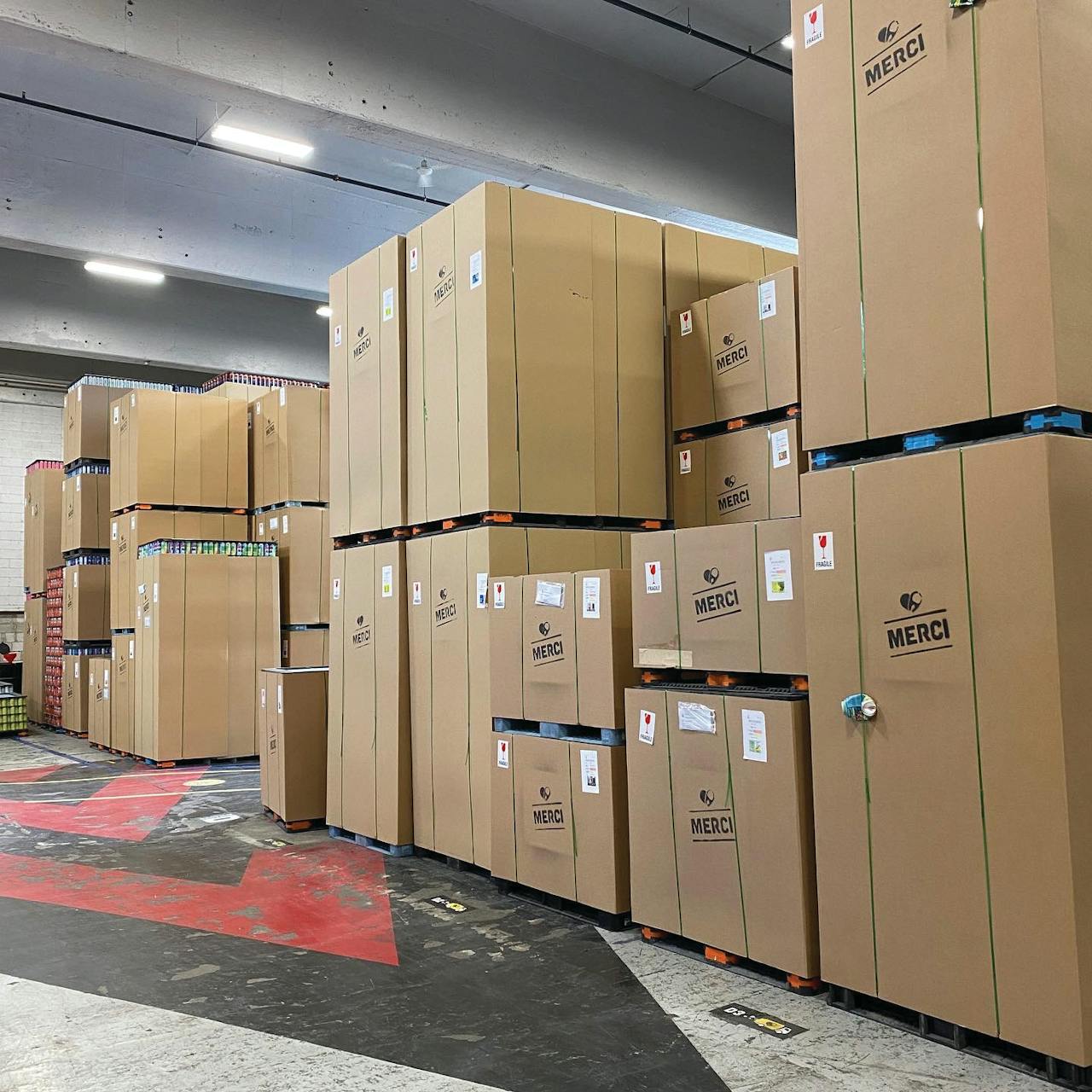 Eschewing plastic film as a means of securing pallet loads of printed cans, Hart uses double-wall corrugated and strapping instead.
"Among other things, we like being able to print on the neck of the can," says Co-Chief Executive Officer, Co-Founder Stephanie Hart. "We also like being able to print across can size formats. When we first came across Hinterkopf it appeared that they were more focused on aerosol cans used in the cosmetics space. So we went to Germany and asked about printing beverage cans and the answer was yes. From that point on we felt Hinterkopf was the technology for us. As a second-generation firm, they kind of had a history that made us want to bet on them. And it's paid off." Be sure to read about Hart Print's rather remarkable backstory—not to mention the implications of the firm's recent acquisition by Ardagh Metal Packaging.
The Hinterkopf Model D240.2 is a precision rotary indexing machine equipped with 16 double-mandrel stations. Six of these are print stations, including four for typical CMYK plus a white station and a varnish station. Each of these print stations includes its own UV cure. At the end is a camera inspection system that will detect and kick out any can that's out of spec. So it's built-in quality control. Just before can discharge is a final UV curing station. Then cans are palletized on a system from Ska Fabricating. That firm also provided the upstream depalletizer and can handling conveyors that gently single-file the cans from a mass flow and feed them into the printer.
Some of the 16 stations on the printer are dedicated to cleaning the can surface, which typically has on it some of the lubricants that are an essential part of the necking-in process. "I can't get too specific about this part of the Hinterkopf system, though I will acknowledge that cleaning and preparing the can surface is a special challenge to anyone thinking about entering this space," says Paradis. "You don't just buy a printer and start sending cans through it."
Special UV-curable inks from Hinterkopf and Tritron are used, while inkjet print heads specified by Hinterkopf are from an unnamed Japanese supplier.
"The print head part of this direct-to-shape digital printing space is being constantly explored and re-evaluated," says Co-CEO and Co-Founder JP Paradise. "Because that's what determines the speed at which you are able to operate. We run at 90 to 94 cans per minute on both our printers. We run both sleek and standard formats. The versatility of the Hinterkopf printer is another one of its great strengths. On the same mandrel we can print either a 12-oz standard, a 12-oz sleek, 8.4-oz sleek, or a 16-oz can. We're not yet doing a crowler due to its slightly bigger diameter, but we do plan to bring in 19.2-oz cans at some point. It's a market we'd really like to get into because of the size of the canvas you have to work with. You can do some really cool art."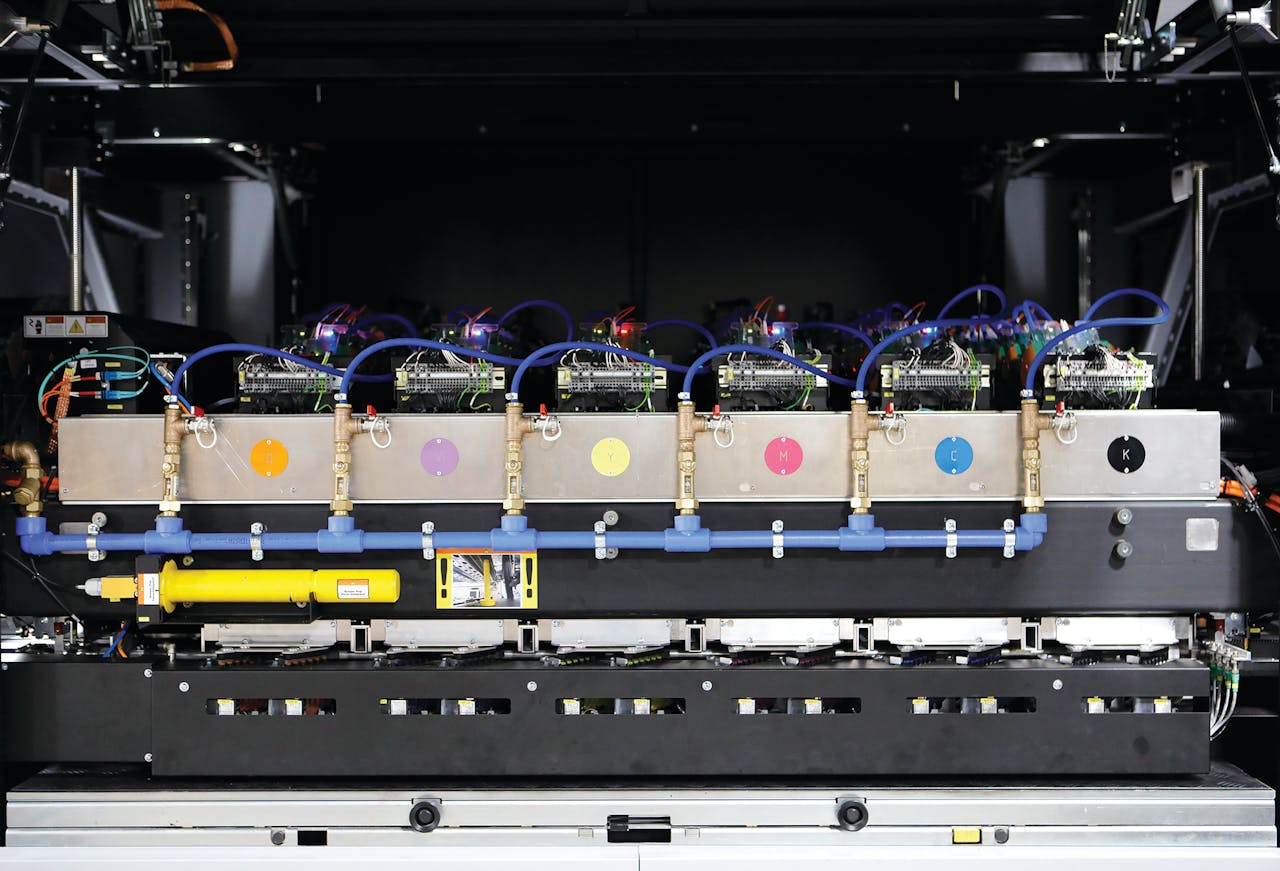 Shown here is the Printing Unit of the Delta SPC-130 recently installed at The Royal Group.
When asked about print resolution, Paradis says it depends a good deal on what the customer wants. "The Hinterkopf has numerous settings. In fact, you can run up to 1200 dpi. But keep in mind that print resolution and speed are intertwined. We find that our sweet spot in terms of what the customers want is 700 dpi."
One last observation about Hart Print is that it uses double-wall corrugated sheets plus strapping rather than plastic stretch wrap on pallets full of printed cans. An operator pulls two v-shaped sheets from a stack and envelops a filled pallet with them before using a semi-automatic strapping system to cinch up the load into a nice, tight unit. Says Paradis, "It would be slightly hypocritical of us to talk so much about producing aluminum cans that are eminently recyclable due to their lack of paper or plastic label components and then ship pallets that are encased in plastic film." Customers can even return the sheets to Hart for re-use, he notes.
On to corrugated
Operating out of 17 locations and headquartered in Montgomeryville, Penn., The Royal Group (TRG) is among the largest independently owned corrugated providers in the country. Last year management added digital printing capabilities to its offerings by installing a Delta SPC 130 single-pass sheet-fed corrugated press from Koenig & Bauer Durst.
"We have been evaluating the digital technology platforms for a while as we decided on when the point was going to be that we really wanted to jump in with both feet," explains TRG President Kevin Miller. "As we evaluated what we wanted in a digital technology platform, we knew we needed high-speed automation. We also wanted a sustainable solution. And we needed a company that was not only focused on a current platform but was equally mindful about continuously improving upon that platform in the future."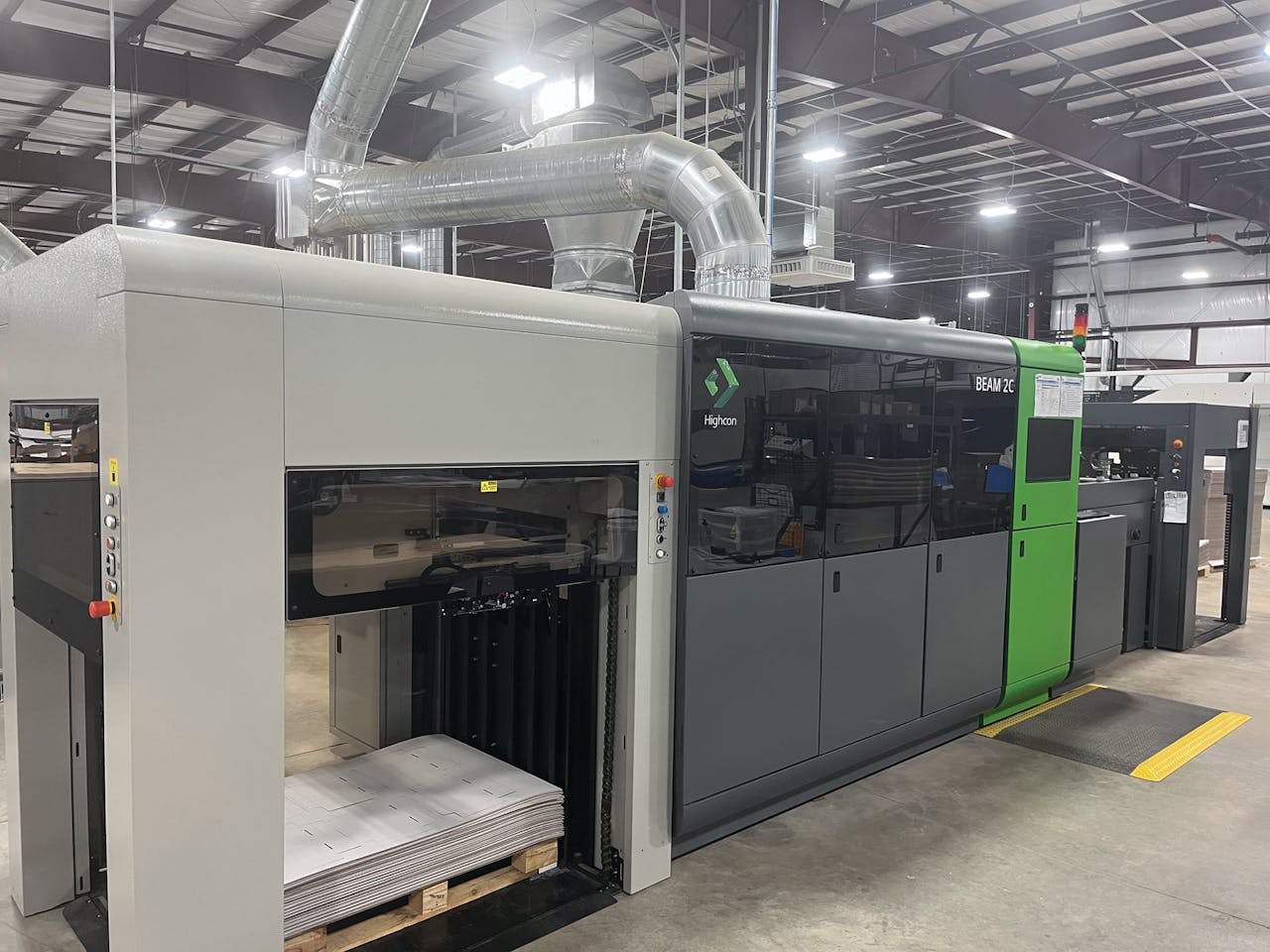 The Beam 2C is a digital system that creases and then uses high-powered lasers to process up to 4,000 sheets/hr.
The Delta SPC 130 FlexLine Automatic combines a well-engineered mechanical design with easily accessible sub-assemblies and selected components to guarantee durable quality, high performance, and reliability, says Koenig & Bauer Durst. It can manage small formats from 500 x 600 mm to very large formats with maximum dimensions of 1,300 x 2,100 (optionally 1,300 x 2,800 mm), and it prints a maximum sheet thickness of 12 mm with water-based, food-safe inks. The DIMATIX Samba® G5L ink jet print heads from FUJIFILM are the latest generation in the Samba printhead family, and inks are dried by means of infrared and thermal drying sections. The Delta SPC130 FlexLine machine includes feeder, six-color single-pass printing, cooling section, and stacker.
Miller emphasizes that prior to selecting a press, key customers were interviewed about what they would be looking for in digital printing technology. "One thing that came back loud and clear," he says, "is that we needed to go with aqueous ink technology. Sustainability is increasingly important in our industry, and we are very much committed to it. So this press matched up nicely with our philosophy. Not to mention that it lets us offer the food-grade-certified packaging our customers are looking for."
The press also had to deliver on automation, output, and print quality. Check, check, and check, says Miller. "We can crank out 15 to 20 thousand sheets a day with amazing print quality," he adds.
Because there are no printing plates to worry about, smooth workflow is another deliverable that the team at TRG greatly appreciates. "It lets us give the customer more time to do what they want to do on the front end of a project," says Jude Cohen, Vice President TRG Retail. "They can make tweaks basically on the fly. There's no conventional printing method that would allow us to do that."
When asked if there is any kind of cutoff number where conventional printing technologies like offset or flexo make sense due to the number of sheets being printed, Miller says it's roughly 20,000 sheets. But that can vary widely based on the nature of the art, sheet size, customer goals, and plenty of other variables. "The bottom line," he adds, "is that we're now in a position to fit our customer to the right print medium no matter what their needs may be. The digital press was the last major piece to that puzzle, and we are extremely happy to have it."
Digital transforms a business
Headquartered in Kent, Wash., The BoxMaker is a producer of custom corrugated cases, full-color packaging, and retail displays. With facilities in eight locations, its newest is in Lowell, Ark. While the Kent facility has two Euclid C digital cutting and creasing systems from Highcon, the Lowell plant has a Highcon Beam 2C. Also installed in 2021 along with the Beam 2C was a PageWide C500 digital press from HP.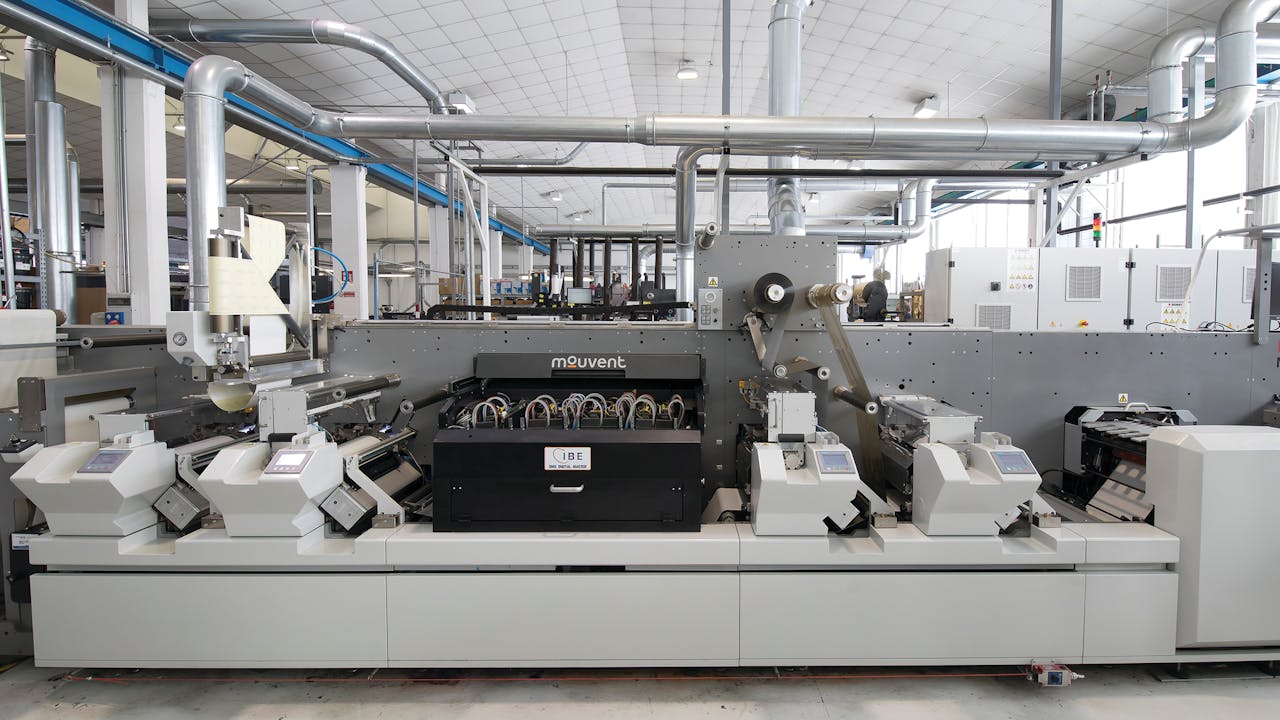 The Master DM5 not only features both flexo and digital ink jet printing, it also offers priming, lamination, hot- or cold-foil embellishment, and rotary die cutting.A key reason for opening the Lowell facility and for equipping it with cutting edge equipment for digital printing and finishing of corrugated packaging was a thing called Fantastapack. Launched by The BoxMaker in 2015 as one of the first web-to-pack online retailers of custom packaging, it's an online ordering system designed for small businesses, entrepreneurs, or anyone else who needs to order packaging without worrying about minimum orders.
"If someone needs 10 boxes because that's all they think they'll sell in a month, we're quite happy to take that kind of order," says Michael Betker, Director of Technology at The BoxMaker. "It works because we've automated everything so that once a customer enters their information and uploads an art file, it pretty much goes straight to the press. Now that we have the Lowell operation running, we can serve the Eastern part of the country much more efficiently than if we were shipping only from the state of Washington."
Highcon's original platform was the Euclid family of digital cutting and creasing systems. With the more recent introduction of the Beam family, more powerful lasers permit speeds to 4,000 sheets/hr, which is two to three times faster than the Euclid systems. The Beam platform is also said to be more robust, and while the Euclid is suitable for B-flute corrugated board, the Beam 2C operating at The BoxMaker can handle C-flute or double-wall E-flute.
The key to both the Euclid and the newer Beam families of Highcon technology is DART: Digital Adhesive Rule Technology. Digital creasing data is uploaded from a DXF file to the Beam system. Proprietary software translates the data and sends it to a special dispensing unit that contains an unnamed polymer. This polymer is released onto a PET jacket mounted on a hard metal upper cylinder. In essence, the dispensing unit extrudes onto the PET jacket the rules needed to make the carton creases. The pattern it extrudes is dictated by the digital data uploaded from the DXF file. As soon as the polymer rules are laid down, they're hardened by exposure to UV light. Directly beneath the upper cylinder and its PET jacket is a lower cylinder that has a soft, silicone-like blanket mounted on it. All that remains is to send printed, corrugated sheet through the two cylinders. As the upper cylinder with its UV-hardened rules presses into the soft surface of the lower cylinder, the corrugated sheet in between is creased by the rules. Once the required number of sheets has been creased, the PET jacket is removed from the upper cylinder and a fresh one takes its place so that a completely different job can be downloaded.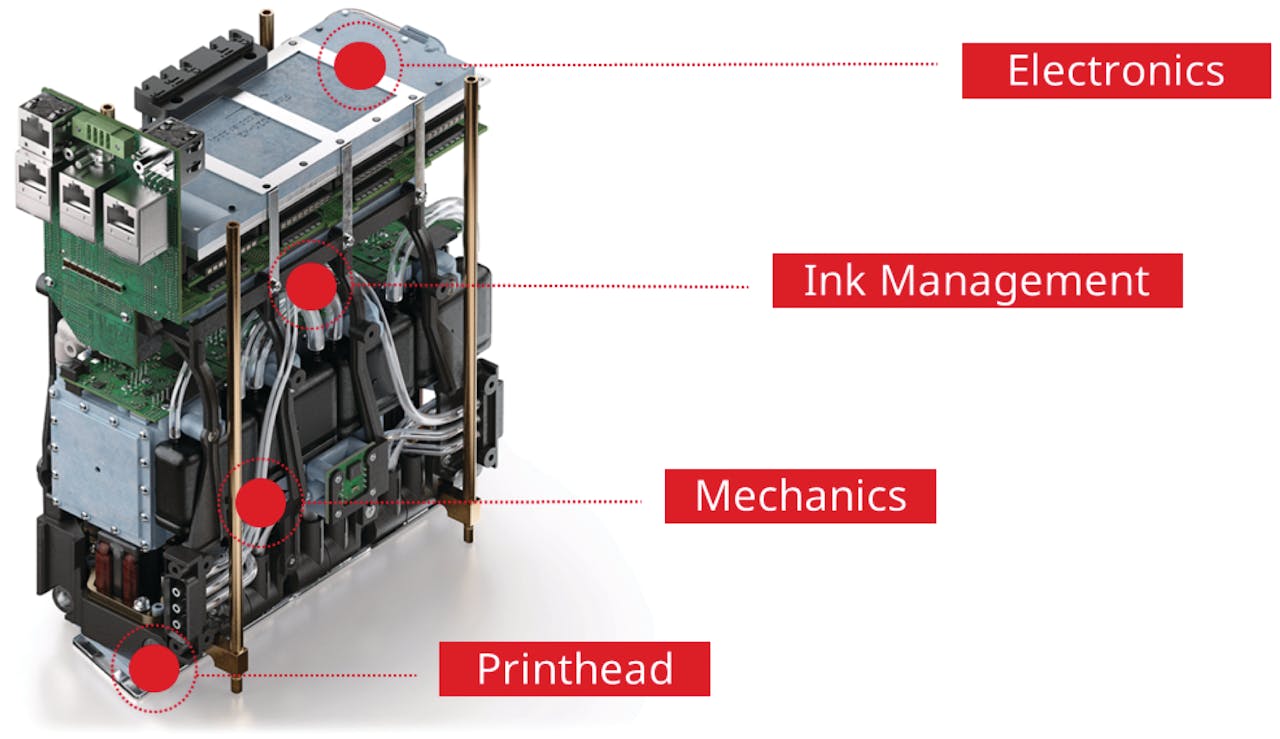 An illustration showing the key components of the Bobst cluster print head concept.
As for cutting individual cases from the sheet, it's done within the Beam system immediately after creasing. An array of high-powered CO2 lasers combine with scanners and advanced optics to perform whatever cutting design was spelled out digitally in the uploaded file. Corrugated waste is then stripped away and the finished cases—digitally printed, digitally creased, and digitally cut—are discharged and ready for shipment to the customer.
With a business transformation focused on short runs and the addition of faster equipment, The BoxMaker also had to evaluate how to efficiently drive the PageWide C500 and the Highcon Beam 2C. With an increase in orders supported by shorter runs, an automated workflow solution with fewer manual tasks was clearly going to be needed.
The workflow solution they selected is a sophisticated API-driven planning and imposition software application called tilia Phoenix from Tilia Labs. It uses Artificial Intelligence to optimize the creation of print-ready layouts across potentially millions of possibilities. Tilia Phoenix streamlines planning and layout creation guided by custom rules, ease of mark creation, and the ability to gang jobs based on materials, customer requirements, due dates, and more. So rather than asking the human brain to think its way through all these combinations and options to plan, batch, and gang digital print orders as efficiently as possible, tilia Phoenix leverages award-winning AI algorithms to generate the press-ready files automatically.
What's notable about the solutions now being developed by Tilia Labs and The BoxMaker is that they're looking at ways of optimizing not only print and material cost but also finishing costs. "Now the algorithm is more intelligent than ever as it evaluates all the finishing routes that a converter can choose and how that choice will ultimately affect cost," says Tyler Thompson, Solutions Director at Tilia Labs. "Imposition software in the past didn't understand the full workflow from print production to finished goods. In the digital world, with increased growth in shorter and customized runs, understanding the entire converting process matters more than ever."
'All-in-One, All-Inline' label converting
One more look at recent advances in digital printing brings us to I.B.E., S.r.l., a label converter in Verderio, Italy, that is among the first to install the Master DM5 from Bobst. This hybrid system features both flexo and UV-cured digital ink-jet technologies. But that's not all. The "All-in-One, All-Inline" system also offers priming, lamination, hot- or cold-foil embellishment, and rotary die cutting. This single-source, all-Bobst aspect of the DM5 is a distinguishing characteristic, notes Bobst.
"For us the biggest advantage of the DM5 is that it is very competitive on the medium runs from 2,000 to 8,000 meters, which happen to be the range most requested by our customers," says I.B.E. CEO Roberto Spreafico. "Second is flexibility—you can produce any kind of job required by the market, from the most complex to the simplest label, in a single pass thanks to the versatility of the press and the excellent integration between digital and analog printing technologies.
"The label sector has always been accustomed to short time-to-market demands, maybe because the label is one of the last things you put on the packaging. Speed is therefore key to success in this market. We need fast turnaround capabilities to meet these expectations. Sometimes we deliver labels in just two or three days, and this is where digital technology and automation play a huge role."
While Bobst is firmly established as a global leader in analog printing technologies, it's something of a newcomer where digital technology is concerned. It dipped its toes in the digital waters in 2017 by way of a joint venture called Mouvent. Encouraged by the recent and ongoing growth of digital printing in the packaging space, it made Mouvent part of the Bobst family in July of 2021.
The essence of Mouvent technology is the cluster. It's a compact, robust, and scalable solution that integrates four fujisamba printheads, the mechanics for head alignment, the ink management, and the software steering each printhead. This results in a printing speed of up to 100 meters/min at the maximum native resolution of 1200×1200 dpi. It also means easy and fast maintenance as each unit can be replaced at the customer site with minimal manual intervention.
"Another advantage of the DM5 is the inline embellishment, which adds value without creating a bottleneck in production," says Spreafico. "We chose to include all kinds of finishing and embellishment options to print high-quality labels in one single pass so we can best serve all sectors and industries—for example, the cosmetics and wine label verticals, which require the highest level of embellishment."
Among Solucan's happy customers in the craft brew segment is Whitehead Brewing, whose 16-oz can is shown here.
The BOBST MASTER DM5 has been designed with automation in mind, as each module is operated by digital technologies. The success of the press is due to the fact that most of the manual steps usually associated with flexo printing have been automated with BOBST technology, such as DigiFlexo for automatic digital registration and printing pressure setting and control. This also takes care of registration between the digital unit and the flexo stations, both before and after digital printing, which means the operator can trust the machine to keep registration and work autonomously. The result is an ultrafast set-up time, exceptionally high press uptime, and outstanding repeatability. Not to mention that one operator can run the whole system.
"One of the reasons we chose the DM5, in addition to the digital part, relates to the automation of the traditional printing," says Spreafico. "The flexo groups are well integrated and have automatic register control camera technology on each station. The press is also very easy to operate and features job changes on the fly, non-stop semi-rotary die-cut change, and a waste matrix system that can make even the most complicated shapes requested by our customers." He added that the setup times achieved were comparable to those experienced in standalone digital printing, despite the multi-process nature of highly embellished jobs.
The substrates that can be printed on the press include pressure-sensitive label stock, light carton board, and, as an option, unsupported film material. I.B.E. was pleasantly surprised to discover that the press can also tackle wine applications. "For some wine labels printed on less textured papers, we were able to replace offset technology with the DM5," notes Spreafico.
Moreover, I.B.E. has found that the durability of the print can compete with screen-printing without the need for lamination, which has saved on plastics, reduced the thickness of the labels, and simplified the finishing process. The inks have a high resistance to abrasion and chemical agents, making them suitable for labels being applied to various chemical products.
"We've really hit the target with the installation of the DM5, especially as the market continues to request small and medium quantities and increasingly frequent orders," says Spreafico. "These kinds of services with a short lead time, combined with the quality and repeatability, are the main benefits that our customers are experiencing." PW
[ad_2]

Source link