[ad_1]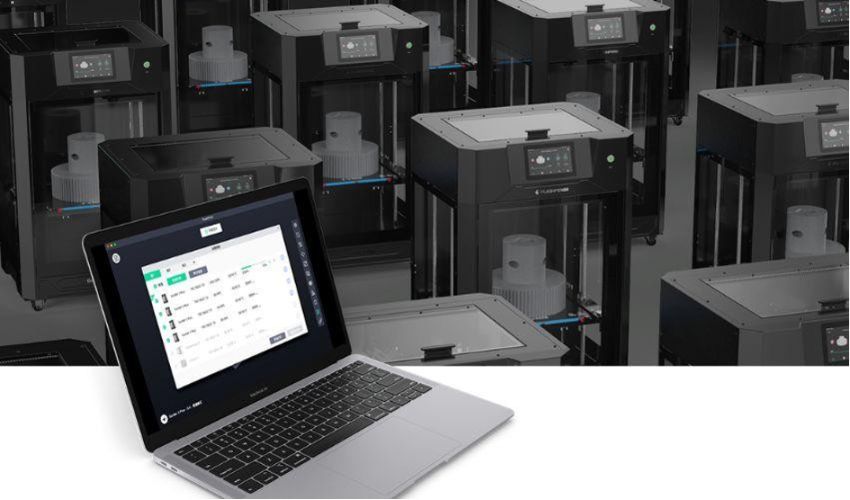 Chinese 3D printing manufacturer Flashforge has just launched its new FDM 3D printer, the Guider 3 PLUS. The Zhejiang province-based company has already expanded its presence internationally, selling its products to nearly 100 countries and regions around the world since 2011. Now, this latest machine is expected to help the company expand even further in the future. According to Flashforge's official announcement, the Guider 3 PLUS will offer high printing speeds while maintaining consistent high precision. Equipped with multiple smart features, this 3D printer from Flashforge is targeting professionals looking for consistent 24/7 productivity.
Many sectors have been reaping the benefits of different additive manufacturing technologies for some time now. Whether in product design, prototyping or production, additive manufacturing technologies allow users to achieve faster time-to-market and more efficient development and production phases compared to traditional manufacturing methods, as well as take advantage of digital, formless production. But how does the Guider 3 PLUS differ from other 3D printers of its kind? We took a closer look at the 3D printer to find out.
A Quiet, High-Speed 3D

Printer
The Guider 3 PLUS has a CoreXY structure which allows for a maximum print speed of 250 mm/s, an increase of about 50% over other similar 3D printers. The manufacturer claims that despite this high speed, the printer will be relatively quiet with no loud noises during the 3D printing process. The noise level should always stay below 50 dB, comparable to quiet radio music.
Furthermore, though the Guider 3 PLUS has a number of features for a greater ease of use — including quick shut-off nozzles, automatic shut-offs, flexible platform and more, in addition to a touchscreen – no sacrifices were made in terms of performance and delivered print results. Additionally, the integrated filament drying function allows the user to guarantee high quality filament, as the sealed filament chamber contains desiccant to ensure that filaments are in a sealed and dry environment. This will help prevent potential print quality issues from filaments that are not sufficiently dry. Moreover, the Guider 3 PLUS has integrated a HEPA air filtration system, which filters dust, odor and particles during the printing process. The evacuation of any gas that occurs is also guaranteed thanks to a pipe routed to the outside, which ensures an environmentally friendly and safe working environment.
In order to actually bring additive ideas to life with the Guider 3 PLUS, the 3D printer manufacturer is particularly focused on the increased speed of each print with its new machine. With a build volume of 350*350*600 mm, small businesses, design studios and university labs can thus get a fast and efficient printing process as well as R&D or even design support. Not to mention, in addition to the larger build volume of Flashforge 3D printer, users also will have better print quality, which can be attributed to the dual Z-axis ball screw design.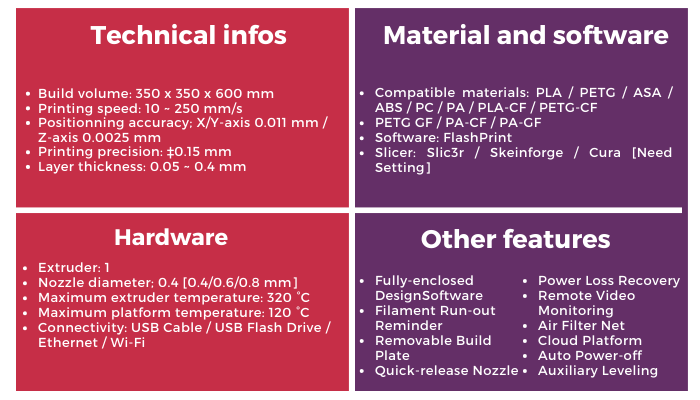 Users Benefit From High Material Compatibility and Application R

anges
Thanks to the Open Material System of the Guider 3 PLUS from Flashforge, third-party filaments can also be used for 3D printing without any problems. This includes materials like PLA, PETG, nylon and many more!
Additionally, with this new FDM 3D printer, Flashforge is targeting a wide range of applications. Starting with product development, the Guider 3 PLUS can be used to enjoy shortened prototyping times before moving to the production of customized parts and prints for small series. Specifically, the Guider 3 PLUS could be useful in the production of prototypes of furniture products, film and TV props as well as architectural models according to FlashForge.
Users can also take advantage of the Guider 3 PLUS' smart multi-platform management, which allows users to perform cross-platform remote maintenance during the 3D printing process. This is made possible via FlashPrint 5 and FlashCloud. Flashforge states that smooth production and efficient integrated device management is enabled through online printing and real-time monitoring.
Regarding the components of the 3D printer, the Guider 3 PLUS is using a 16 mm diameter Z-axis guide and 16 mm TBI ball screws positioned on both sides, offering users reduced vibration and ensured stability even when printing large and heavy models. In addition to the improved platform load capacity of the Guider 3 PLUS, the X and Y axes are equipped with high-precision linear guide rails that improve the simplicity of motion. Even in the event of a power failure, the current printing progress would be automatically saved, allowing the user to continue printing directly and quickly after restarting. To learn even more about the Guider 3 PLUS and its numerous other features, click HERE. The Flashforge Guider 3 PLUS is now available for preorder. Feel free to reach Flashforge for free sample printing and a custom quotation.
What do you think of the Flashforge Guider 3 PLUS? Let us know in a comment below or on our LinkedIn, Facebook, and Twitter pages! Don't forget to sign up for our free weekly Newsletter here, the latest 3D printing news straight to your inbox! You can also find all our videos on our YouTube channel.
*Cover Photo Credits: Flashforge


[ad_2]

Source link